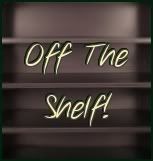 I came across this challenge and it was perfect for me. It's hosted by

Bookish Ardour's Reading Challenges and it's called Off The Shelf Challenge.

All you have to do is read those books that are sitting on your shelfs waiting to be read. More info here.
It's perfect for anyone who has the tendency to buy tons of books and really never get the chance to read them.
These are some of the books that are on my shelf so I figured to list them in hope that I'll get to read them this year. There are only 15 but I'll probably be adding more later on

.
The Challenge Level I'm on is Trying - Choose 15 books to read
The Secret Society by Tom Dolby

Crescendo by Becca Fitzpatric

Stargazer by Claudia Gray

Hourglass by Claudia Gray

The Time Traveler's Wife by Audrey Niffenegger

The Sea of Monsters (Percy Jackson #2) by Rick Riordan

The Titan's Curse (Percy Jackson #3) by Rick Riordan

Blue Moon by Scott Westerfeld

The Dream of the Stone by Christina Askounis

If I Stay by Gayle Forman

Halo by Alexandra Adornetto

Nevermore by Kelly Creagh

Nightshade by Andrea Cremer

Clockwork Angel by Cassandra Clare

Incarceron by Catherine Fisher
These are the covers. I just love book covers!