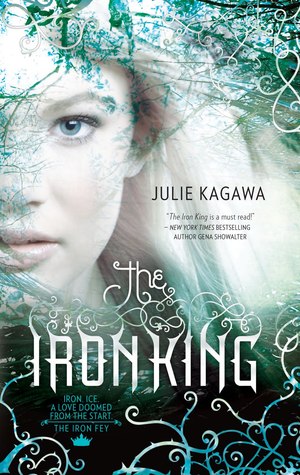 Title:
Iron King
Author:
Julie Kagawa
Series:
Iron Fey, Book 1
Publisher:
Harlequin Teen
Release Date:
February 2010
Format:
Paperback
Pages:
363
Source:
bought it
Rating:
5 stars
Meghan Chase has a secret destiny; one she could never have imagined.
Something has always felt slightly off in Meghan's life, ever since her father disappeared before her eyes when she was six. She has never quite fit in at school or at home.
When a dark stranger begins watching her from afar, and her prankster best friend becomes strangely protective of her, Meghan senses that everything she's known is about to change.
But she could never have guessed the truth - that she is the daughter of a mythical faery king and is a pawn in a deadly war. Now Meghan will learn just how far she'll go to save someone she cares about, to stop a mysterious evil, no faery creature dare face; and to find love with a young prince who might rather see her dead than let her touch his icy heart.
REVIEW
What can I say about Iron King?? WOW-
I am SO glad I picked up this book!!! LOVED IT!
I think I had this book sitting on my shelf for almost a year now, not really wanting to read it. I'm not really into the fairy-books much but boy, am I glad I read it.
The story is about Meghan Chase a girl seemingly very normal at first glance, but going through the story Meghan ends up discovering her connection to the fey world. Her little brother Ethan, got kidnapped and taken into the fey world and Meghan is ready to do anything to get him back. When I was reading the parts with Ethan my heart sank at the thought of that cute little kid alone with vicious faeries. I had to glance at the last page(which I don't do anymore... too many spoilers) just to see if Ethan got back safely, or else I would be too preoccupied with his state rather than focusing on the story.
The story was fast paced, things happened... a lot! I believe Meghan got herself almost killed, a bunch of times throughout the book, which gave you nice action scenes and you got to see Ash in a few of them!!
By the way...I'm team ASH..(fanning herself) But you also got to see a lot of the fey, bad ones & good ones, and different kind of creatures that live in the Nevernever(fey world).
Meghan doesn't only have to worry about her brother but herself too, since she got to Nevernever pretty much everyone wants her. She has to stay alive and focus on finding Ethan without getting distracted from Ash...
Oh, Ash... I always liked seemingly cold characters that warm up to the potential love interest but Ash is pure ice...which I love!! He is the son of Mab, Queen of the Unseelie court and freeking produces ice from his hands!!!! I don't know why but when I see a character with a power that has to do with ice I instantly love them! (like Gray from Fairytail) Even though in reality I hate cold and ice lol.
In this book we get a glimpse of his character and a little of his back-story and I can't wait to see more of him in the next book The Iron Daughter.
Overall I loved it and can't wait for the rest of the books, and mostly to see more of Ash....
Definitely pick it up if you are interested in paranormal books with a forbidden love story... my favourite!!!